Posted by The Good Trends' Editor on Mar 8th 2021
Today is International Women's Day when we get to celebrate all the awesome social, economic, cultural and political achievements of women. Being the dedicated foodies that we are at The Good Trends, we're focusing on the leadership, creativity and passion that women makers are bringing to gourmet food, both in America and globally. Our 134 (and counting!) women owned brands are literally changing the way America eats. If you are not yet championing women own brands in your business, you need to check out our collection here.
To bring the collection to life and to help develop your knowledge of some of these brands, here are 3 inspiring recipes taken from a few of our favorite makers. Nomm nomm nomm. Enjoy!
(Recipes are reproduced here with thanks to the brands)
Solenzi - Vegan Creamy Porcini Mushroom Pasta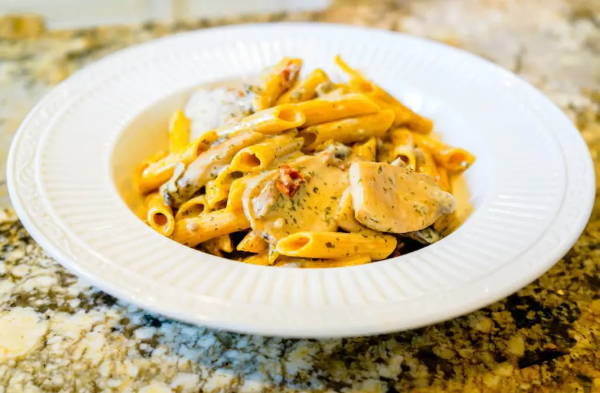 This recipe can be used with any Solenzi Pasta, but the maker recommends Turmeric, Black Pepper & Corn Penne. The Solenzi Organic Boscaiola Porcini Mushroom mix adds an aromatic, woodsy flavor to the dish. When combined with the coconut milk, you get an intense, nutty and delicious alfredo-like cream sauce with the aroma of porcini mushrooms filling your kitchen. The vitamins & minerals you get from the naturally sun-dried vegetables in the mix and the anti-inflammatory benefits of the turmeric in the pasta will nourish your body and your taste-buds.
Ingredients


Solenzi Chef's Ingredients- Organic Boscaiola Mix, 1 bag

Solenzi Organic Pasta, 2-3oz per person

Organic Coconut Milk, 1 can

King Oyster Mushrooms thinly sliced, 1 cup
Directions


Put a pot of water on the stove, add salt to taste, and bring to a boil to cook the pasta.

Thinly slice the king oyster mushrooms and saute them in a frying pan with a tablespoon of olive oil and salt to taste over medium-high heat. Set aside.

In a saucepan add the can of coconut milk and half a bag of the Solenzi Organic Boscaiola mix.

Heat on the stove on medium heat, bring to a boil then turn down to a simmer for 10 minutes. This will thicken the coconut milk to create your sauce. Add the king oyster mushrooms you set aside and keep warm.

Cook the Solenzi Organic Turmeric, Black Pepper and Corn Pasta according to the package instructions (6-8 minutes) or to your taste, reserving about ½ cup of the pasta water in a small bowl before you drain it.

Drain the pasta and immediately add it to the saucepan with the creamy coconut mushroom sauce and toss all together mixing well over low heat for 1 minute. Add some of the reserved pasta water so that the ingredients glide together and are glistening and not sticky.

Divide into individual plates and top with chopped parsley. Serve and enjoy.

Explore more from Solenzi.
Zen of Slow Cooking - Sweet Potato, Garbanzo, & Red Lentil Buddha Bowl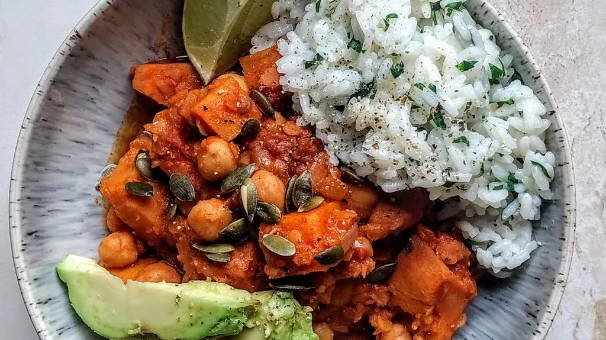 Ingredients
1 tbsp olive oil

1-½ cups (1 medium) onion, diced

2 tsp (4 cloves) garlic, minced

1/2 cup red lentils, rinsed

14 oz can garbanzo beans, drained

4 cups (12oz) sweet potato, peeled ½" diced

14oz can diced tomatoes

1 cup water

For serving: 3 cups cooked rice, sliced avocado, pumpkin seeds, cilantro, lime wedges
Directions
Slow Cook: 1) Heat the oil in a skillet; cook the onions and garlic for 2 minutes; transfer to cooker. 2) Stir in the Southwest Fiesta blend, lentils, garbanzo beans, sweet potato, diced tomatoes & water. 3) Cover and cook on LOW: 8 hours or HIGH: 3 hours.

Pressure Cook: 1) Heat the oil on sauté function; cook the onions and garlic for 2 minutes; transfer to cooker. 2) Stir in the Southwest Fiesta blend, lentils, garbanzo beans, sweet potato, diced tomatoes & water. 3) Secure the cooker lid, seal pressure valve; cook on Manual/Pressure for 6 minutes. 4) Vent with Quick Pressure Release.
Explore more from Zen of Slow Cooking
Bumble & Butter - Apple & Cheddar Granola Crisp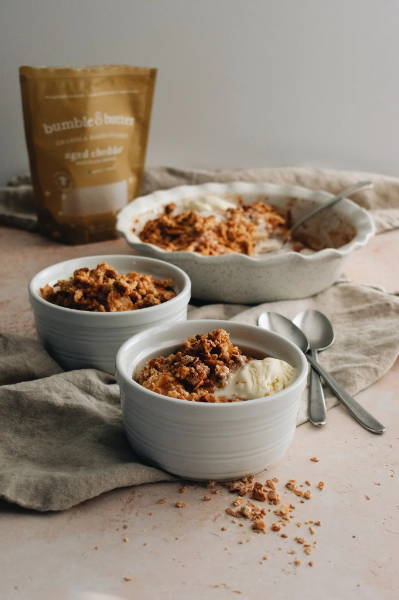 Ingredients
for the filling:
3 large honey crisp apples- peeled, cored & sliced thin (~865 g post prep)

1/4 cup unsalted butter, browned

2 tbsp AP flour

3 tbsp water

1 tbsp lemon juice

1 tsp vanilla extract

1/4 cup brown sugar, packed

1 tsp cinnamon

1/4 tsp nutmeg

1/4 tsp salt
For the crumble:
Whisk together flour, granola, brown sugar, baking powder & salt until fully combined. then, add in the diced butter and incorporate with fingers until you have pea sized butter balls. cover with plastic wrap and refrigerate until ready to use.
For the filling:
Preheat oven to 350 F (177 C). lightly grease a 9 inch pie plate or an 8×8 baking pan with butter and set aside.

In a small saucepan on medium-low heat, brown the butter. this will take about 5-8 minutes. once browned, transfer to a heat proof mixing bowl and set aside to cool slightly.

Add the remainder of the filling ingredients (minus the apples) to the brown butter and whisk until fully combined. then, pour this mixture over the prepared apples and stir until evenly coated.

Place apple mixture in pie plate or baking dish & top with crumble. *you may want to place the apple crisp on a baking sheet to prevent juices spilling into the bottom of your oven. bake for 35-40 minutes, or until the apples are tender when poked with a toothpick.

Serve immediately with ice cream!

Explore more from Bumble & Butter